Sometimes it's best to go back to the beginning and start over, don't you think? That's what we've decided to do anyway.
What am I talking about? Well, one night I had this wild idea to sell our house and move into our rental house. I honestly can't believe the thought ever crossed my mind. We lived in a beautiful, new home in a kid-friendly neighborhood with great neighbors. However, the reasons for doing it far surpassed the reasons to stay. That and too many Property Brothers marathons. I was itching for a project.
So what are our reasons to tackle this mountain of a renovation? We owe very little on it, it is slightly bigger (although you'd never know it by looking), there is more privacy, and it has a back deck surrounded by trees at the end of a dead end street. Sounds great, right?
When my husband and I first got married, the rental home was our house. I couldn't wait to leave and get a place of our own. The last few years we've rented it for additional income. Unfortunately, it is in need of some serious tender loving care and a facelift. The house is your typical red brick ranch. It doesn't have fancy ceilings or a two-car garage like our former home, but I think I can get past that for the time being, especially since we plan to completely remodel the house.
New windows. New floors. New paint. New kitchen. New bathrooms. Finished basement. I've already got my "
Renovate
" Pinterest board full. It should be a great, stress filled time. I'm so happy you are joining me in our big endeavor to head "back to our roots" and make our old house new once again.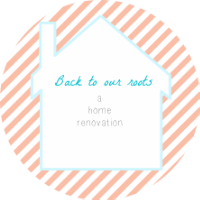 Copyright (C) 2014 back to our roots | All rights reserved.